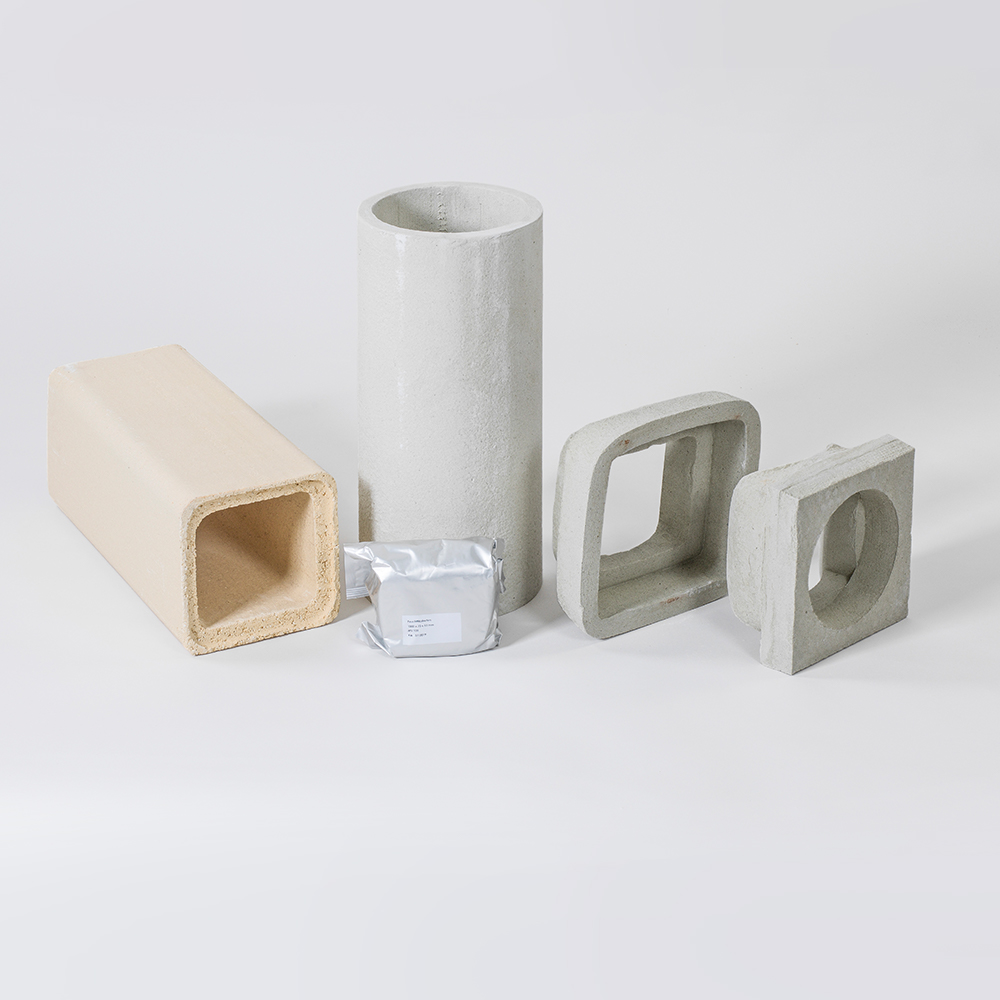 Components for furnace shells, plaster covers, smoke pipe connections
Room for design inspiration
The components can be used as a furnace shell for heat transfer surfaces in tiled stove construction, or alternatively, as ceramic cladding. They are ideal for designing the furnace shell, especially for plastered stoves set with an air gap.
Creative solutions for technical requirements is the main premise here. That's why you can choose from a shell made of stove chamotte or of fiberglass-reinforced parts cast from refractory castable.
For level enveloping surfaces: Wall blocks
Level enveloping surfaces can be designed with wall blocks made of stove chamotte or refractory castable.
Optimally suited for radii: Caterpillar cover bricks or flex panels
For the realization of radii, caterpillar cover bricks made of fire clay can be bonded in the desired radius. Also suitable for this purpose: Flex panels consisting of strips of refractory castable, held together by a fiberglass mesh inserted in the center. The panels are glued to the floor or underlying plate according to the desired curve, and the joints between the panel strips are filled with Profix refractory adhesive. By plastering, any desired curve can be quickly created on the panel strip.
Minimal dust, noise & effort: EASYSPLIT
EASYSPLIT is a furnace shell fire clay that is easy to process with a manual tile cutter and which offers three major advantages in tiled stove installation in private homes: Speed, reduced dust generation, reduced noise. Like other RATH fire clay for furnace shells, it offers a long service life, high heat storage capacity and optimal release of beneficial radiant heat.
An added bonus: Diverse application possibilities. In tiled stove installation, EASYSPLIT plates can be used as a furnace shell for heat transfer surfaces, as well as for ceramic cladding. EASYSPLIT is particularly well-suited for designing the furnace shell of plastered stoves set with an air gap.
Broad product portfolio: Smoke pipe connections
It often becomes necessary to create a new connection for an existing chimney. We have a broad product portfolio to deal with the wide variety of structural conditions that arise in this context.
Mineral wool smoke pipe connections can be used to connect metallic pipes, flue tubes or smoke pipes to a round chimney pipe. Available in three versions – angular/angular, round/angular and round/round – they cover all connection combinations. The transition piece made of fire clay is a perforated brick with an inner diameter of 145 mm to 200 mm.
This is used between the heating insert spigot and the ceramic heating flue, as well as between the ceramic heating flue and the metal smoke pipe.
The fire clay flue tube serves as a connector when joining a tiled stove to the chimney.
Further information is available on the stove fitters' page.
The current product catalog with prices, registration for stove fitter training courses and further information can be found here.